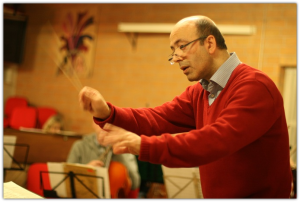 My background is in classical music due to my education and playing flute as the main instrument. However parallel to the activities related to classical music I have been working as a private music teacher as well as composing music for theatres and performing the pieces in the live performances.
In addition to this I have been a conductor in various chamber orchestra.
I have also been involved in temporarily projects in collaboration with different music art houses. The last project I was involved with was with the Codarts foundation with the goal to create an orchestra from different nationalities and different conservatories in order to perform Mozart's Requiem in Hoflaan Church in Rotterdam.
Finally I have also composed a series of children songs, which has been recorded and published on CD for private use.
Education and master classes:
1988 – 1992: University of Music and Performing Arts Vienna (Hochschule fuer Musiek und dastellende kunst in Wien) Degree programme: Instrumental Studies (Flute) and Orchestral Conducting
1990: Master Class Flute by James Galway (Switzerland)
198: Master Class Flute by Aurele Nicolet (Vienna, Austria)
1986: Master Class Flute by Geoffrey Gilbert and Trevor Wye (Kent, England)
1978-1983: Tehran Conservatorium
1968-1978: Basic and Secondary School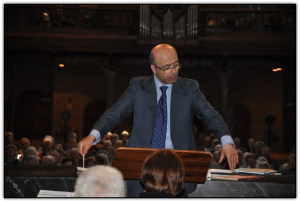 Experience:
Since 1996 Private music teacher in the subjects: general music theory, ear training, rhythmic and melodic dictation.
2013: In June I will conduct, Igor Stravinsky: Histoire du Soldat,as part of an educational project in Community School in Utrecht perform.
2008: Concert on November 15, 2008 in Hoflaan Church in Rotterdam. The repertoire include Mozart's Requiem conducted under my direction. This concert was a project band put together and the orchestra members were students of conservatory in Rotterdam.
2007: Establishment of project string orchestra named Puerto in Rotterdam. This has resulted in a concert on 23 May in Rotterdam. The members of this project string orchestra were the students of the Rotterdam Conservatory.The program of the concert was:
Manuel de Falla: Siete canzieones populares Espanolas (arranged for chamber orchestra by me) sung by soprano: Winanda Zeevaarder
Manuel de Falla: Ritual Danse de Feu and La Vida Breve (Arranged by me for chamber orchestra)
Heitor Villa-Lobos: Bachianas Brasilianas no, 5
2007-2011: Conductor of Amateur chamber orchestra in Bunnik – Netherlands. We have performed the following composition:
L.V. Beethoven: first and second part of the sixth symphony, second and consolidated part seventh symphony, romance for violin and orchestra in F major.
W.A.Mozart: 2 ariaes and a duet from the opera Don Giovanni, Clarinet concerto in A major, flute concerto in D major, Concerto for Flute and Harp in C major, 4th horn concerto in D major
F. Mendelssohn: cantata for choir and soprano "Hor mein Bitten" and "Verleih uns Frieden"
F. Schubert: Rosamunde
J. Brahms: Hayden Variations for orchestra
E. Grieg: Peer Gynet Suite for orchestra No 1
Max Bruch: Kol Nidrei for cello and orchestra
Maurice Ravel: Pavane pour une infante defunt
2006: Establishment of string orchestra project was to commemorate the victims of fire in Domenicuskerk Schipol Amsterdam. The program included:
Heitor Villa Lobos: Bachianas Brasileiras No.5 (all three parts)
Samul Barber: Adagio for string orchestra
2006: performing 15 Persian songs arranged by me for an ensemble of 12 players (2-violins-The concerts were in theater Evenaar in Rotterdam, Tropical Museum in Amsterdam and Utrecht world music stag Rasa.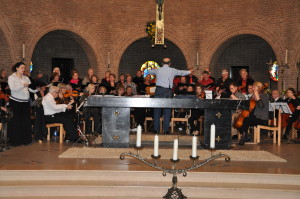 Composition:
– A Persian Fantasy: for bassons solo
– Arabesque: a duet for B-flat clarinet and bass clarinet
– Ballade: for oboe a string trio
– Iris: for oboe solo
– Mallard: for B-flat clarinet solo
– Blinde uil octet: for flute, B-flat clarinet, bassoon, string quartet and Mezzo sopran
– Four songs: for mezzo sopran, bassoon and string quartet
– Dreams and awakening: Trio for flute, B-flat clarinet and piano
– Nostagia: for bassoon and string quartet
– Wanderer; for flute and four percusion instruments
– Miniaturs: for flute ensemble- A Persian Fantasy: for bassons solo